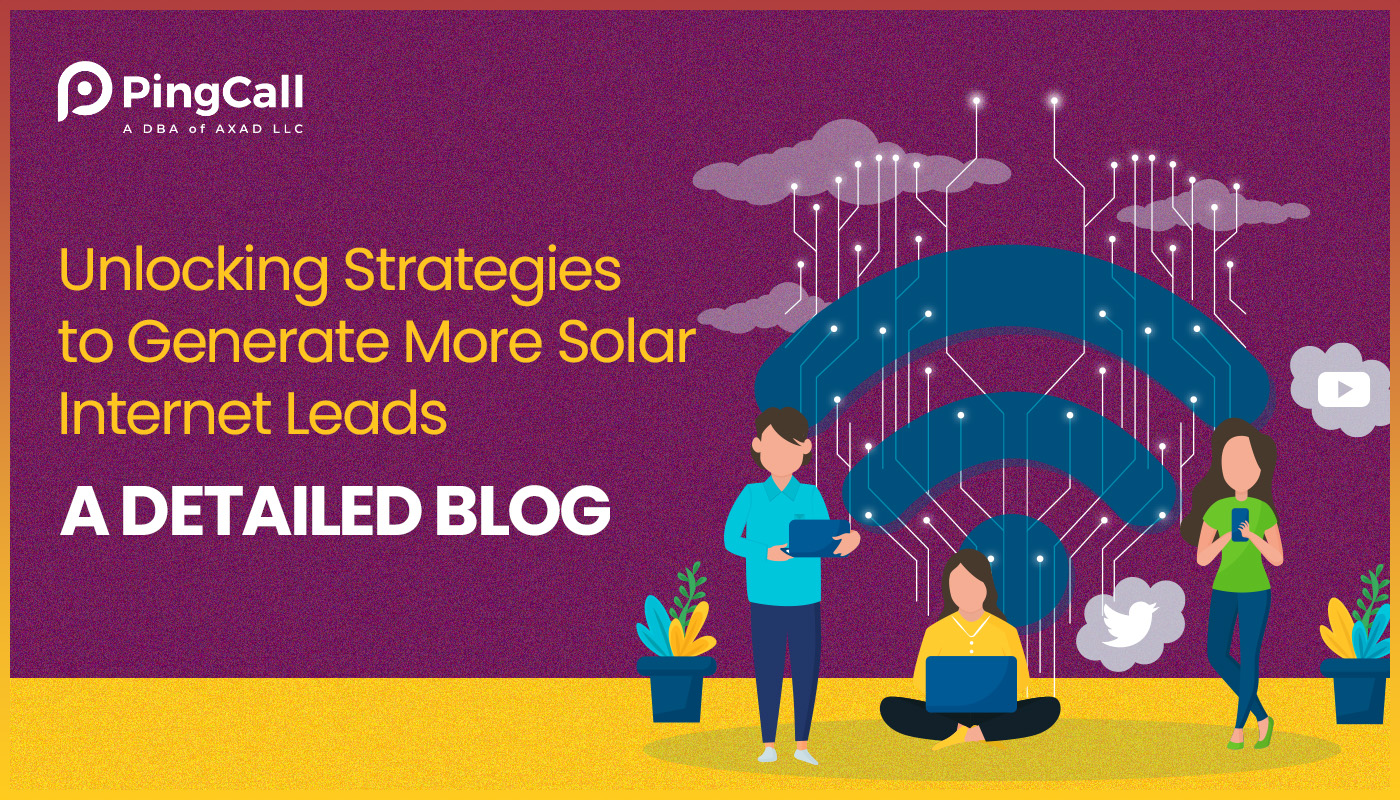 In the rapidly evolving world of renewable energy, solar power has emerged as the optimistic solution to deal with environmental concerns and issues faced by all of us. The gradual reduction in fossil fuels have urged all of us to use solar energy as the next best alternative. As solar adoption grows, so does the need for effective marketing strategies to connect with potential qualified solar leads looking for solar solutions. If you also deal in solar products then this comprehensive guide will help you know the ways of generating and converting solar internet leads into potential customers.
How to Generate More Solar Internet Leads
With the surge in solar solutions, generating more solar internet leads has become an important task for all businesses in the solar industry. These leads are potential customers who have shown their interest in solar energy solutions via online platforms. Thus, to help solar companies target the right leads, beneath we have mentioned some of the ways of solar lead generation USA.
Use SEO
Having an optimised online presence acts as the pillar for lead generation. Develop a keyword strategy aligned with solar-related terms to improve your website's search engine rankings. Create high-quality, informative content that addresses common questions, concerns, and trends related to solar energy. Regularly update your content to make it more relevant and useful for your audience.
Embrace the Potential of Webinars and Workshops:
Host webinars and workshops that educate potential customers about the advantages of solar energy. Address common concerns, provide insights into the installation process, and showcase real-world case studies. These interactive sessions position you as an expert while fostering trust and engagement.
Craft Compelling Content Marketing:
Develop a content marketing strategy that positions your brand as a thought leader in the solar industry. Create blog posts, articles, videos, and infographics that educate and inform your audience about solar energy's advantages, cost savings, and environmental benefits. Utilise storytelling to connect on a personal level and address any misconceptions surrounding solar power. The businesses can take the help of Solar Leads Generation Agency USA while posting engaging content over the internet.
Offer Valuable Incentives and Resources:
Entice qualified solar leads with valuable incentives such as free solar assessments, educational webinars, e-books, and informative guides. These resources not only showcase your expertise but also provide tangible value to your audience. In exchange for these resources, capture essential contact information to nurture leads via solar lead generation USA.
Optimize Landing Pages for Conversion
Dedicate landing pages specifically designed to capture solar leads. These pages should be simple, concise, and laser-focused on the benefits of solar energy. Incorporate clear call-to-action (CTA) buttons that guide visitors toward signing up for assessments, consultations, or downloadable resources.
Some Inbound Marketing Tactics
The companies offering solar energy solutions use inbound marketing tactics as well to attract and engage inbound solar leads through valuable and relevant content. Unlike traditional outbound marketing, which involves pushing messages out to a broad audience, inbound marketing targets interested prospects by offering information and solutions that address their needs and interests.
In short, inbound marketing is the practice to create good quality content that solar leads customers look forward to. Some of the useful inbound tactics include:
Tactic #1: Create Engaging Content
Creating engaging content is important to attract more customers. People don't want to know about your industry or when it was established, rather are more interested in getting information useful for them. To make the content look more effective, first understand your audience expectations and what kind of information related to solar energy they are looking for? When you post content that helps people solve their problems, they'll come more often on your website to get useful pieces of information.
Tactic #2: Focus on Your Social Media Presence
A major trend which most of the companies fail to consider is developing a social media presence. It's not enough to just post blogs or articles on your website, rather you need to make it available on various social media platforms as well to get more solar internet leads. Engage with people, solve their questions and encourage them to check your social media pages. The solar energy companies that are highly active on social media pages can put themselves as a brand in front of a wider range of audiences.
Tactic #3: Use the Right Combination of Keywords
With every sales cycle worth implementing, one has to put in a lot of effort. And one of the most important aspects of inbound marketing is to understand how customers search for their queries.
When inbound solar leads search for the information like "most famous solar companies in Delhi, the websites are ranked based on their rankings. So the websites using the most trending keywords in their content will have more visibility among the people looking for similar information.
Conclusion
In conclusion, generating more solar internet leads is a well-structured approach that leverages multiple avenues to reach and engage your target audience. Thus, the majority of the businesses buy qualified solar leads from lead generation companies to efficiently connect with individuals interested in deploying solar energy solutions.
Buying solar internet leads from a reputable lead generation company like Ping Call can be a strategic move to efficiently establish connections with potential customers looking for solar energy solutions. So accelerate your business's growth and customer acquisition by choosing Ping Call as your solar leads generation agency USA.
---
By Samara Miller
|
Aug 17 2023