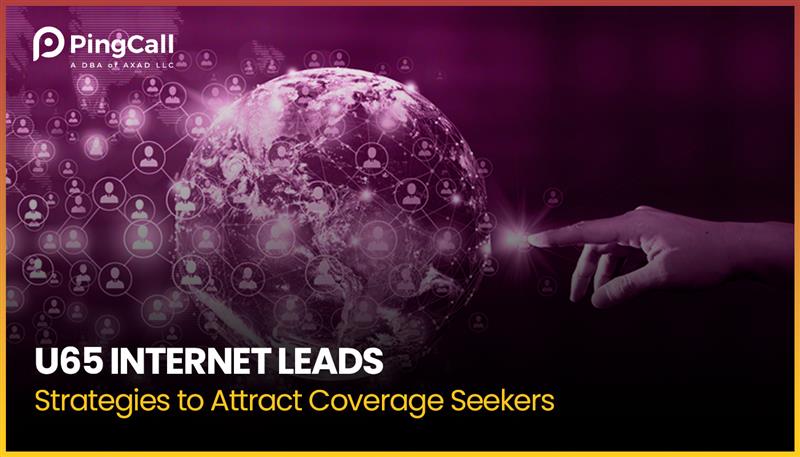 Subject
U65 Internet Leads are the potential customers aged less than 65 years and have shown their interest in insurance products, often health insurance, through online channels. The term "U65" is used within the insurance industry to distinguish individuals who are not yet eligible for Medicare, which mostly begins at the age of 65 in the United States.
As per the data revealed by the National Health Interview Survey 2021, more than 14% adults aged between 18 to 65 are uninsured in the United States. Thus, the government of the country is encouraging individuals approaching age 26 to take in U65 health insurance plans. Due to a surge in Internet insurance leads insurance companies have started buying U65 Internet Leads to target them.
How U65 Internet Leads are Generated?
U65 Internet leads are generated through different online marketing strategies and platforms. The businesses offering services related to insurance actively buy U65 internet leads to expand their customer base and connect with individuals looking for insurance coverage before they become eligible for Medicare. These leads may be interested in individual health insurance plans, family coverage, dental insurance, vision insurance, or other types of insurance products.
Ways to Generating U65 Internet Leads
Generating more U65 Internet Leads through is a strategic approach that focuses on addressing the specific needs and concerns of individuals under the age of 65 looking for insurance coverage. By providing valuable content and optimising your blog for search engines and user engagement, you can attract a wider audience and convert them into leads.
Let's check out a few ways that help get more U65 Internet Leads through your blog.
SEO is Crucial for U65 Internet Leads
The majority of the online sessions start with a search engine, so make sure that your website ranks well in search engine results for relevant keywords. SEO is one of the most preferred ways to get more U65 internet leads, and it's crucial to the discovery phase of lead generation. SEO consists of using different kinds of strategies, including using specific keywords in your content and getting links to your webpage from other reputable sites.
Understand Your Audience
Before you start creating content, it's important to understand the demographics, preferences, and challenges of individuals under 65 who are seeking insurance coverage. Research their concerns, pain points, and common questions.
Identify Relevant Topics:
Choose blog topics that are targeted by your internet insurance leads. Consider creating content around topics such as "Navigating Health Insurance Under 65" or "Comparing Affordable Coverage Options for Young Adults."
Provide Comprehensive Value
Craft blog posts which offer comprehensive and actionable value. Go beyond surface-level information and provide insights, tips, and solutions to the challenges your audience faces.
Keyword Research
Do detailed keyword research to identify high-search-volume keywords related to U65 insurance needs. Use tools like Google Keyword Planner or SEMrush to find relevant keywords to incorporate into your content.
Craft Compelling Headlines
Create attention-grabbing headlines that clearly convey the benefits of reading your blog post. Compelling headlines increase click-through rates and encourage readers to explore your content.
Quality Content Creation
Develop well-researched and well-written blog posts addressing the specific concerns of individuals looking for insurance coverage under the age of 65. With the help of blogs, offer actionable advice and information to your targeted customers.
Don't Give Up
Since the sales leads come from a variety of sources, it is important to use all the best possible ways. Top most strategies for generating sales leads consist of taking referrals, conducting customer care calls, and nurturing leads. Having a good presence on the internet and social media platforms is also a part of lead generation strategy.
How Ping Call Help You?
We have a team of experts who can well manage U65 Internet leads provided by the affiliates. Our brokers are trained to contact and consult any clients and help them connect to you as an advertiser. Moreover, we will assign a personal manager to you who will solve your issues and answer your questions with utmost proficiency.
Ping Call' U65 Health Insurance Call Leads Features
With Ping Call' insurance internet leads you don't have to pay for non-converting traffic or unqualified call leads. Just pay for the genuine phone calls generated matching your criteria.

We provide legit leads only, which are not linked with any other insurance plan.

Insurance companies can focus on other more important tasks, rather than focusing on internet insurance leads.

Our lead generation strategy consists of a complete set of tracking tools to track your campaigns.
Get More U65 Internet Leads from Ping Call
Ping Call is a renowned lead generation agency, helping businesses in growing their business. You can contact us or explore our website to know more about our lead generation services.
---
By Katherine Miller
|
Aug 31 2023