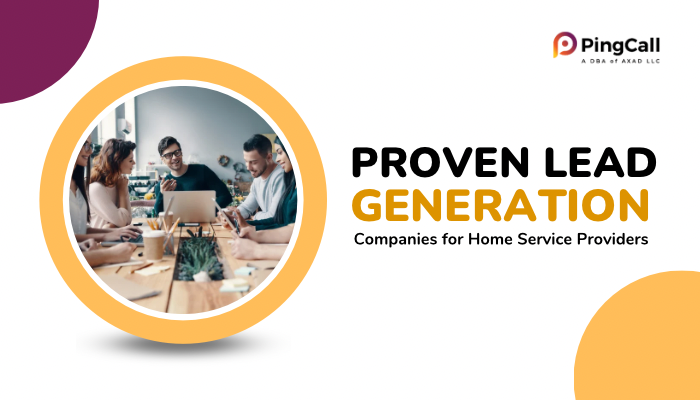 The right lead generation techniques can help your Home Service business stand out from the competition by addressing consumer pain points and fostering relationships. Your offerings are insufficient to persuade the market to choose you over competitors in the sector. Yet, a solid partnership built on knowledge of and attention to your audience's wants will. Home services inbound phone call will help you enhance the sales in the right manner.


According to studies, up to 77% of consumers have remained faithful to one or more brands for more than ten years (and longer, sometimes). More than 50% of consumers, according to a different survey, show loyalty to up to five brands. With a strong lead generation strategy for home services, you can establish the groundwork for customer loyalty, resulting in repeat business, word-of-mouth recommendations, and increased chances for upselling and cross-selling.


It will be necessary for you to prioritise Home Services Leads quality over home services leads quantity. And we know exactly what it will take to do that for your home service business.


How Lead Generation Benefits Home Services
Lead generation, as you probably well know, includes all the methods and techniques your company does to locate and entice new clients to use its services. Finding your core client groups, such as homeowners, homebuyers, landlords, or business owners, and developing content that addresses their needs are necessary for lead generation for home service companies.

Here are some strategies for using home services leads generation through digital channels to address consumer pain points and create lasting partnerships.


1. Place Capture Forms on Your Website
Because they offer incentives like discounts, freebies, or gated material in exchange for their email address and other personal information, capture forms encourage visitors to develop a connection with your Home Service company. By nurturing those home services internet leads with ongoing material, you can maintain your connection with them thanks to this. Given that 90% of consumers claimed they would share information, choosing the appropriate incentives (taking into account your target audience and their interests) will be crucial to your success.


We advise strategically positioning capture forms on the sides, bottoms, and scrolling pop-ups of landing pages, blogs, and other web content for the best results.


2. Demonstrate Expertise with Compelling Content 
Material that demonstrates subject-matter expertise utilise blogs and how-to videos to impart knowledge and demonstrate your business's capabilities to potential customers. Keep in mind that by incorporating capture forms and CTAs within this material, you are encouraging readers to provide their contact information. According to study, 78% of your target audience will be more likely to trust your brand when you tailor your captivating content to their particular home service demands.


We advise establishing your authority through high-quality thought-leadership content that is tailored to your audience (and to each stage of their buyer journey) and is supported by a tonne of research and data.


3. Engage Customers on Social Media 
Social media marketing for businesses providing home services For businesses trying to engage with their customers and expand their market, social media is a powerful tool. After all, there are about 4.74 billion people living there. Also, it's a terrific method to interact with users you don't often get the chance to: reply to comments, like posts and shares, share posts when your business is mentioned, and continually publish useful and pertinent information.


High-quality photos of recent construction should be shared, and interaction with clients who post about their new houses on social media is advised.


4. Stay in Touch with Email Marketing 
Prospect engagement with email marketing After customers give you their information, keep them informed about trends and seasonal products to let them know what's going on with your business and industry. One of the most effective ways to speak to specific segments and give material that will improve their day and serve as a reminder of you is through email marketing.

We advise using email to communicate announcements, inform recipients of new items, suggest additional services, and give special offers and discounts that make them feel valued.


5. Optimize Your Website for SEO 
Internet Marketing for Home Services Businesses Your website will rank higher in search results if it has quality blog content, contact information, relevant keywords, and is mobile-friendly, simple to use, and quick to load. The benefits of SEO on your Home Service website are numerous, but lead creation is one of them: 53% or more of website traffic comes from organic search, and just one increase in position can increase your CTR (click-through-rate) by 2.8%.


Three ideas are provided here for maximising SEO for your website:


-Make sure your blogs and landing sites are optimised to appear when people search for your pertinent company goods.
-Promote the elements that generate income, even if they are little components.
-Placement and service areas should be specified for local search results.


6. Target Your Local Customers 
About 50% of "near me" searches for local businesses result in a call or visit, representing an astounding 97% of all internet searches. To guarantee that you are the one that appears as their ideal Home Service solution, you must target your local audience!


We advise you to concentrate on producing content for the people who live in your service area. If you live in California, make a small reference to it in your writing to indicate where exactly you are.


7. Include Testimonials on Your Site 
On your website, include client endorsements. 95% of people examine online reviews before choosing a product or service, did you know that? If you have positive ratings, more than half (58%) of customers will also pay more for your services! Because of this, your website should constantly contain endorsements and reviews. You must let prospective clients know that you have performed admirably for past clients so that they would brag about you.


Rundown
We advise providing quotes from pleased clients as well as before-and-after images of work performed. Contact PingCall to explore a media relationship if you want to make sure your testimonies stand out and the rest of your lead generation strategies are effective!
---
By Kate Smith
|
Apr 26 2023