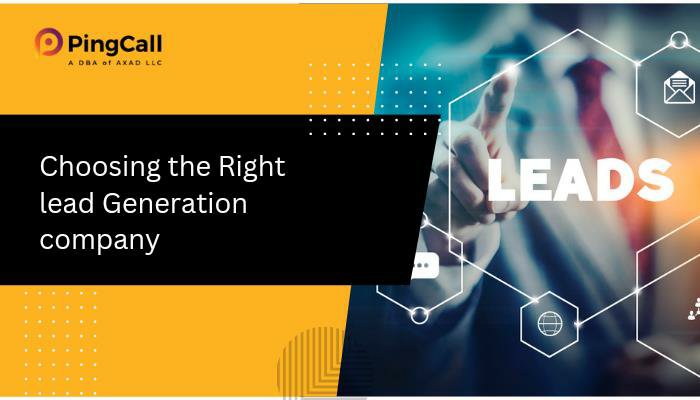 Debt Settlement Leads


Do you believe that now it is possible to get Debt Settlement Leads at a low cost? Numerous businesses may appear when you conduct a fast Internet search, offering to sell you leads that may or may not be worthwhile. But why spend a little money on something that is of little to no value when you might either spend a little more money on something that could be far more valuable or make the effort to produce your leads?


In light of this, here are a few ways Ping Call is suggesting you to start doing so right away to develop or acquire higher-quality leads for your debt settlement business.


The creation and distribution of top-notch content that speaks to the needs and interests of those you are seeking to attract is a wonderful technique to get leads through inbound marketing.


Your business most certainly has a social media and internet presence by this point. Utilise that platform to share your material and link back to your website so you can collect contact information from visitors who are interested through a call to action of some kind, like a survey or exclusive deal.



The Internet is the first place that everyone searches for any goods or services they are considering purchasing. In order to give users relevant results, search engines (particularly Google) do a wonderful job sorting through the millions (billions??) of potential links that match incoming requests.


Paid search is a terrific strategy to ensure that your business appears at the top of local searches for your services and to increase the percentage of your local debt settlement business.


In addition to paid search, native advertising and other digital advertising formats like banner advertisements and social network post boosting are highly customizable ways to discover your target audience and persuade them to visit your website.


Consider collaborating with regional bar associations and nonprofit legal aid organisations that provide free legal counsel to those considering bankruptcy. Some people who are considering bankruptcy protection as if it were the only option to get out of debt due to consumer debt may find debt settlement to be an appealing alternative.


Last but not least, buying leads is not intrinsically bad. Just make sure you are buying them from a tried-and-true, reputable, high-quality supplier. There are several different lead generation services, each of which generates leads of various qualities. When you're ready to buy top-notch debt settlement leads, get in contact with RGR Marketing. Keep in mind that, like anything else, you get what you pay for with generated leads.


Let The Business Come To You


Cold calling is quickly coming to an end. These days, the main focus of lead creation is gathering customer data through various inbound marketing strategies. The above suggestions should be very helpful to you in producing high-quality debt settlement leads that will make you successful in the upcoming year.


There are numerous approaches to managing debt. Some choose to consolidate their debt, while others choose to file for bankruptcy as an alternative. Debt settlement is one of the more popular options, nevertheless. According to the amount of Ping Call customers who sell Debt Settlement Leads, the lead vertical for debt settlement looks to be equally as popular. One crucial point to be aware of is the wide range of lead suppliers' quality when it comes to debt settlement leads. While there are undoubtedly many companies that produce high-quality, real-time leads, there are just as many that sell leads that are of considerably lesser quality. Prior to fully committing to new vendors' leads and selling them to your buyers, it's crucial to test out new vendors.


How to Do Debt Settlement?


The process for producing and selling debt settlement leads is similar to that of most lead verticals. Others do outbound calls and either transmit the live lead or submit a voice-to-data lead, while some companies produce their leads instantly. In addition, unless special inquiries are asked, the debt settlement lead form is normally brief and simple. You require a lead distribution system that manages all lead tracking, segmentation, and distribution if you want to sell debt settlement leads in real-time.


Types of Debt-Related Leads


It's crucial to identify the specific category of debt relief leads that your business specialises in while searching for debt solution leads.


Setting criteria for the lead screening process ensures that all leads sent to your company are qualified and tailored for the precise kind of clientele you're looking for.
How Ping Call Can Help?


Ping Call's complete back-office solution comes standard with all the features you need to run your debt settlement vertical. Ping Call gives you complete control over all of the leads you generate as well as those you buy from a third party by allowing you to segment all of your incoming leads on a source-by-source basis. Everything from a form builder to live transfer and voice-to-data functions are included with the Ping Call system. Whatever your requirements, we would be pleased to collaborate with you to find out exactly how Ping Call might boost productivity and profitability for your company. Give us a call.


The type of debt solution leads include:


Debt settlement: When customers are in need of debt relief, the quantity and nature of their debt can differ greatly. Reaching targeted and qualified leads that result in sales may be accomplished by screening your debt relief leads to make sure each one satisfies the criteria you establish.
Debt Consolidation: Because customers are in so much debt, many of them frequently look for solutions to combine their debt into one or fewer monthly payments. Providing your debt relief firm with customers specifically seeking debt consolidation services helps give the kind of leads your business can rely on, whether they're looking for a loan to pay off high-interest accounts or combining multiple debts into one payment.
Credit Repair: Finding high-quality Credit Repair Leads that result in sales requires connecting with consumers who require credit repair and counselling. Every year, more companies look for leads for credit repair, and ensuring that the right leads are sent to your company will help you determine which ones are most likely to convert.
Bankruptcy Issues: With about a million people declaring bankruptcy each year, getting these qualified leads is quite competitive. In order to develop targeted leads for bankruptcy services, it's critical to screen and capture the leads in real time.


For Lead Generation businesses, our company creates lead distribution software. In addition, the Ping Call team offers lead QC among our other services. If you are interested in buying debt settlement leads, send us an enquiry with the names of your present suppliers so we can introduce you to Ping Call customers in that industry.


It's crucial that your business only deals with leads that actually require your services given the wide range of debt relief leads that your company can require. In this situation, partnering with Ping Call has shown to be a successful method of generating selected and verified Debt Settlement Leads for your debt relief business.
---
By Patrick Long
|
Jan 06 2023