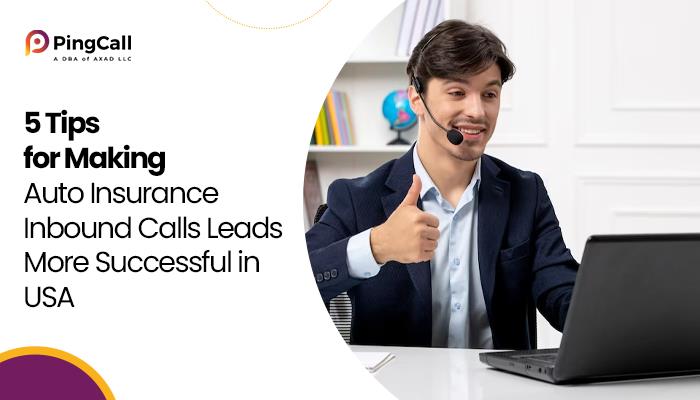 In the competitive world of auto insurance, it's crucial to establish a strong connection with your customers. Effective and transparent communication helps turn auto insurance calls or leads into satisfied customers. By leveraging the power of auto insurance inbound calls, businesses in USA can improve their customer relationships, boost sales, and stay competitive in the auto insurance industry.
Thus to help businesses dealing with final expense inbound calls, we have mentioned five important tips to help insurance professionals make the most out of their auto insurance inbound calls. By following these strategies, agents can enhance their success chances, improve customer satisfaction, and boost overall business growth.
Ask the Right Questions
Well-researched questions can help deal with auto insurance calls smartly. By asking the right kind of questions to final expense inbound calls' users, you can get satisfy the callers looking for specific information. By asking relevant questions, businesses can get customers to respond to common inquiries, and address potential objections.
For instance, never ask questions like 'why are you calling us?' or 'how can I assist you?' A better way to start the conversation is to ask positive questions like 'what kind of insurance plan you are looking today?' or 'Do you look for some specific information about auto insurance"?
By preparing the list of questions to be asked in advance, agents can stay confident, stay on track, and deliver accurate and persuasive information to potential customers.
Good Listening Skills
Active listening is an important skill that can greatly improve the effectiveness of inbound calls. Carefully listen to your customers and look for ways how you can help them. The customers want you to listen to their queries and how you can help them. By laying emphasis on the caller's needs, concerns, and preferences, agents can demonstrate empathy, build connection, and establish trust.
Encouraging the caller to express themselves and carefully listen to them. Active listening skills are important in understanding the caller's point of interest and giving customised solutions.
Provide Personalized Solutions
Since each of the caller has unique requirements and insurance needs, it is crucial to give personalised solutions as per their needs. In order to maximise success, agents must gather relevant information and use it while providing customised solutions.
By asking targeted questions, you can provide tailored recommendations as per the available coverage options. Establishing a good rapport with the auto insurance calls and truly understanding their requirements will enable you to not just sell more policies but will make the relationship more cordial.
Record the Call
Call recording is important while talking Auto insurance inbound calls as it helps go through the information later and checkout if you have missed something. Give a second or maybe a third look to client questions before doing a follow up with the clients. Recordings eliminate the need to call back the customer in case you have missed something.
Also recording the call during inbound calls help address the address and provide further clarification. Agents Clear and concise explanations, along with supporting evidence, are some of the benefits of recording calls.
Follow-Up and Nurture Leads
Effective follow-up is essential for maximising success with inbound call leads. After the initial call, agents must promptly follow up with personalised emails, additional information, or quotes as committed by them. Consistent and proactive communication shows professionalism and reinforces the agent's commitment to providing outstanding customer service.
Agents must try to nurture the leads by establishing regular contact with the callers, address their questions or concerns, and provide relevant information. By staying engaged and establishing a relationship over time, agents can boost their chances of converting leads into long-term customers.
Conclusion
Mastering the art of handling auto insurance inbound calls is important for business growth and expansion. By deploying these five tips, agents can ensure that each inbound call becomes an opportunity to build trust, deliver value, and ultimately secure new customers in the competitive auto insurance market.
Do you want to supercharge your lead generation efforts related to auto insurance calls? Contact the experts at Ping Call today for a free consultation and discover how lead generation experts can help make auto insurance inbound calls more successful in the USA.
---
By Katherine Miller
|
Jul 28 2023