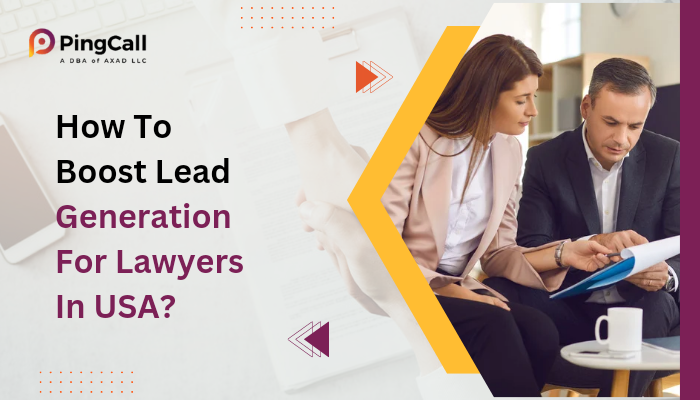 Day-by-day increasing competition in the legal industry, compelled law practitioners and law firms to prioritize deploying quality lead-generation strategies.
Are you an independent attorney or working in a law firm? All you need is qualified leads. Developing high-quality lead generation for lawyers in USA is meant to transition online users to in-person clients.
With the amalgamation of an array of lawyers' lead generation services into your online marketing strategy development, you will be able to grow your business. If you are worried about your online reach, then this Ping Call article will be worth it for you.
What Is A Lead?
A lead can be a prospect or a new client, who could potentially end up paying for your business. And if the question is what is lead generation? Then be sure that lead generation is not about pushy salespeople. It is all about developing interest in your firm or business.
It means you should have the art to convince potential clients to visit your website and also do the action whatever you would like the client to do. Lead generation is the first goal of marketing that comes before the sales process.
However, when the lead comes to a particular law firm, the definition can have many meanings. In one law firm the lead could come through clicks on a paid ad whereas, for another company, it is a phone call or the amount of traffic on a legal blog post.
A Law Firm Can Go For Lead Generation Service in USA?
The answer is "Yes", for sure, the law firm lead generation is beneficial for both company and the client. You can convert clicks to calls, your law firm needs to cultivate an inviting space that displays your authority in the law field.
Here are a few steps to know why legal leads marketing is necessary for generating leads:
Build Your Brand: Let your lead know that you exist. Introduce yourself to the market as a viable law firm both online and offline. You need to exercise brand awareness that includes:
Building a website
Adopting SEO services
Creating informative content
Including advertisements
Establishing your brand
After gaining visibility, initiate the first contact and move to the second step.
An Intriguing Home Base: Get your potential client's attention, you need to keep their interest. After that make yourself accessible to make your conversation interesting with the client.
Prepare a landing page and invite your audience to stay and explore everything you offer. All you have to do is make yourself a visually appealing design.
The longer your leads stay on your website, the more exposure they have to your law firm.
Benefit Stage: When you get the full attention of your prospect, start negotiating. This is the point at which your prospect will decide whether or not to use your services.
You need to convince them how they will benefit from your legal knowledge and services.
Achieve Success: Now the client will initiate contact and it will make in a form such as:
Filling out an online form
Scheduling a call
Providing their contact information
Getting inquiries regarding your services
How Does Lead Generation for Lawyers in USA Generate Leads?
Law firm lead generation in USA needs digital marketing strategies to make you highly competitive in your niche business. Every firm needs legal leads to display its outstanding existence.
Lead Generation For Lawyers Option:
SEO
Search engine optimization is one of the vital strategies to increase your visibility and credibility online. The better SEO strategy you use the more chances increases to come to the first page of Google search. What SEO benefits lead generation companies for lawyers in strategies USA gets:
Get quality content on your site
Incorporate backlinks
Make your site accessible
Keyword included content
Quality and quantity of visiting site traffic
Procured website for user experience
Lawyer Leads Can Be Generated Through SEO
After creating the SEO-optimised website for lead generation for lawyers in the USA, how you can generate leads:
Build a strong foundation for your website with a code for effective SEO performance.
When you publish content, Google pays attention to the syntax, keywords, readability, accuracy, and many other attributes to grade your website. Here your content plays a vital role.
Your website design should reflect your professionalism. Create a long-lasting impression by using design elements to boost your brand through a better user experience.
Make a direct way to talk to your law firm to generate leads. Use closed captions on your videos, and make prominent web design features and website navigation for your audience. Customers can read your content with visible font size.
PPC /PPL
Lead generation for lawyers in USA needs to include PPC or PPL strategy to gain visibility and brand awareness. It can be done on any platform including search engines, websites, social media, etc.
To get the best law leads you need to conduct targeting and keyword research to know where to place your ad and what content to include.
Develop your ad and do follow-up research on where your ad functions best. PPC with data-driven placement and targeted search terms can completely change the trajectory of your lead generation.
Law firm's website for conversion with PPC
When it comes to initiating the first interaction, PPC can drastically increase your odds of generating a lead. Spotlighting your law firm with paid advertising kick-starts your engagement.
PPL
Pay-Per-Lead is an advanced step in generating leads. You can set the conditions of what a lead is in your PPL agreement. You will pay only for the leads generated, not simply for visitors.
If you are working with a third-party lead-generating service agency like AXAD, it is worthwhile to conduct an audit of your leads. There may be potential companies that charge you for false leads which is why it is necessary to work with a law firm marketing agency that is transparent in their communication with you like Ping Call.
Google Advertising And PPL
When potential clients are searching for law firms, Google can present your law firm on Google Search and Google Maps. The comprehensive PPL strategy can promote your law services. So you can even set a cap to budget on how you are willing to pay for leads.
PPC
PPC is Pay-Per-Click, is a strategy used in lead generation services for law firms in USA
Third-Party Lead Generation For Lawyers in USA
Lead generation services for law firms in USA can greatly improve your online visibility and result in a rush of new clients. In such cases, you can third-party service providers like Kodehash, specifically made for lead generation for lawyers to make the process of generating leads.
Ping Call is listing here the top tools for the best attorney lead generation in USA:
Avvo
It is one of the legal industries that includes free Q&A services, legal advice, and directories. This lead generation for lawyers in USA service providers helps in promoting good reviews for your law firm and boosts your marketing plan.
Nolo
Nolo's website utilises SEO and produces large numbers of websites and articles focusing on exclusive legal issues. The keyword research in Nolo is very much admired and it has the power to searchers to exact geographical locations for their legal needs.
FindLaw
This online directory offers forums, legal guides, and articles. The paid PPC lead generation, website development, and campaign management strategies help to generate quality leads. In Nolo the leads are given to you and only to you when you pay.
Unbundled
This lead-generating service works on giving individual leads and puts a cap on the number of attorneys that can work with them in a specified location. This best attorney lead generation in USA firms is known for having quality leads and high conversion rates for the clients.
Lawyers.com
This firm provides lawyer searches, reviews, and direct pipelines for users to contact lawyers. On this site, you need to pay to be listed on their site and pay more to show up higher on their search results.
These tools can take on an influx of new clients. The third-party generating services can help with your present and future access. By working with these services you will grow your leads and online visibility consistently.
Hire Specialized Agency For Lead Generation For Lawyers In USA
A specialized agency provides a full-time job that requires time, effort, money, and deep knowledge in the field of digital marketing. One such agency is Kodehash Technology, where you can find a wide range of services to boost your online visibility and brand.
Ping Call: A Full-Service Online Marketing Agency For Lead Generation For Lawyers In USA
Ping Call is an online marketing agency that specializes in creating and applying marketing strategies for law firms. The combination of all online services, Ping Call is a well-rounded digital marketing service that generates leads.
Ping Call's online marketing strategy includes customization to meet your specific needs and goals. By individualizing your marketing strategies, you will stand out from your competitors.
The team can create a plan based on data-driven analysis, to reach ever-growing goals. To meet your goals for leads, law firm marketing companies can help in creating expert marketing strategies.
Ping Call lead generation lawyers in USA include data-driven techniques. The team understands the process and works with you to maximize leads.
If you have any questions regarding lead generation, or our process, or are ready to start your journey as lead generation lawyers in USA firms, we are just a click away. Give Ping Call a call.
---
By Kate Smith
|
Nov 21 2022