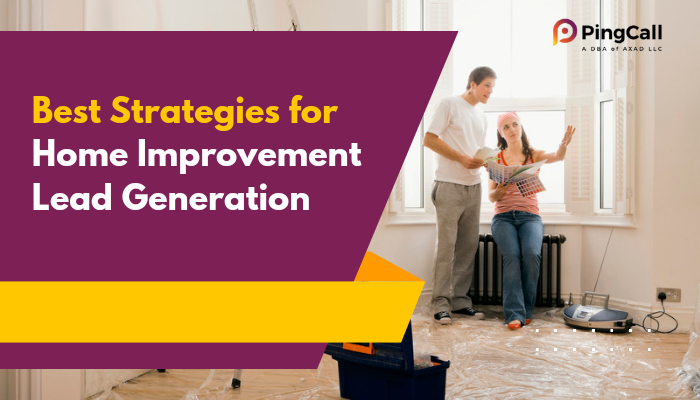 Home improvement comes first on the list when we talk about massive and prosperous industries. The wide range of niche services in the home improvement landscape offers many opportunities.
Contractors make it the biggest trend in the home improvement industry by working on both large and small operations to take advantage of new technologies and services that can help grow their business.
Home Improvement Lead Generation in USA
Many professionals face difficulties during lead generation. You could be the best in the business, but that doesn't guarantee you'll get enough leads to keep your team busy.
You must be thinking about how you can generate leads for home improvement projects. Many small businesses connect with people by using social media, however, if you do your work in non-digital spaces then you may leave behind your business.
Don't worry in this article Ping call is integrating a home improvement business with digital marketing plans. Learn more about how to develop your online presence, and how home improvement lead generation in USA will improve your business.
In this post, Ping Call lets you start with some basic home improvement lead generation strategies and then dive into more detail about how to engage with prospects across a large variety of platforms.
What Is the Importance of Lead Generation In The Home Improvement Industry?
If you want to keep the revenue flowing for your business, you need to work on getting exclusive home improvement leads. Lead generation is a critically vital consideration for home improvement professionals.
You want to get quality leads, but they won't come to you; you'll have to work hard for them. Many marketing companies make you believe they can do it, however, the result will make your business suffer.
Instead of comparing the level of fake promises in the market, you need true engagement with prospects across a variety of platforms to build a lead-generation framework that not only brings a lot of leads but provides you with quality home improvement lead generation in USA.
Here Ping Call is suggesting a few ways to get high-quality home improvement leads.
Home Improvement Lead Generation In USA Strategies
When you are looking for home improvement lead generation companies in USA, you must look for competitors and colleagues who buy home improvement leads. It's a great place to start learning about the leads they use. Here are a few strategies for acquiring high-quality leads.
Optimize GMB profile
GMB means Google My Business is the strategy, where you need to optimize your profile and find the best ways to rank in Google Maps. And Google Maps is where an enormous number of people will find local builders, remodelers, and other home repair lead generation in USA contractors.
Your GMB profile will give your business an entry on Google's business directory. You need to keep an updated profile that helps to ensure that Google will serve up your GMB information in maps so that when people will search for your business or relevant services your website or profile comes first.
To optimize your profile, you need to fill out every field that describes your business. The information includes photos, hours, directions, rates, contact details, and many more as per the requirement.
You also need to include relevant keywords in your business descriptions and encourage your happy customers to leave reviews on your GMB listing.
Optimize Industry Review Site Listings
In-home relevant improvement lead generation in USA reviews matter a lot. According to research, local businesses read online reviews first before contacting them. Therefore you need to have a presence on all of the major business review platforms, encourage reviews from customers and then respond to the reviews.
There are many more review sites online where you can find some that are specific to your location. To generate more home improvement leads, you need to fill out your profiles on each of these review sites.
You need to pay attention to all reviews you are getting. Thank customers who are giving positive reviews and discuss and appreciate negative reviews to know the customer's point of view.
List Your Business On Industry Lead Gen Sites
Home improvement lead generation in USA is going to happen for your business when homeowners know where to find you. Therefore it is important to ensure your business must be listed on every site where prospects can easily see you.
It is a fact that every industry has its lead generation site. You can find as many home improvement spaces as you want online. You need to list down the prominent ones as per your requirements.
Launch New Campaign
Launch your review campaigns to reach out to potential customers. You can ask customers for reviews by offering them discounts, incentives, and many other strategies. The reviews can be placed on social media channels, emails, through blog posts on your website.
Good reviews help to build trust with prospects and help to increase your quality leads. According to research, 94% of consumers said positive reviews help to increase business and 79% of customers say they trust online business reviews and love to recommend them to others.
Paid Ads Help To In Immediate Exposure
Purchase paid advertising on a variety of platforms, such as pay-per-click advertising campaigns on search engines and social media platforms are the most popular and effective paid ad strategies for home improvement lead generation services in USA.
Paid advertising costs more per lead acquisition than organic methods, but there is a benefit: you will get immediate exposure. You will get great reviews and Google will rank your website higher.
Even if people did not click on your ads immediately, they will remember you at the time of moving forward with their home improvement project
Strategic Local Partnership
Homeowners are not only looking for home improvement lead generation in USA but also home repair leads or appliance repair lead generation in USA. They may want you to look for services along with building or remodeling their home however, they may have further plans to complete their living space.
This is a common home improvement lead generation strategy. You build a strategic partnership with a business that offers services related to yours. Then, you and other businesses exchange high-quality leads as part of that partnership.
Others Get Benefits From Your Services
When you are at your job site, you are surrounded by dozens of other homes. When other homes get benefits from your services, do the owners know that? Therefore you need to tell them. It is also a great lead-generation strategy.
Your work is already showcased in the neighborhood and you and your requirements are already available there. Therefore knock on a few doors, and don't be afraid to drop your client's name when you tell the homeowners about your services.
When it is feasible, consider adding a discount for the job as you are already there.
Send Out Direct Mailers
Standout your business with direct mailers. Sending out direct mailers will give you an edge over many competitors who are seeking home improvement leads in USA if they are not using this method.
Avoid a simple text-based mailer, and include images within your home improvement projects to give recipients an idea of what you can do for them. With limited-time offers within your mailer, you can drive out more quality leads.
Free Quote Offers
Are you aware of your competitor's quote charges? Do you know how much they are charging for their inspection and quotes? If you don't know then you must dig for it.
Instead of the set, your charges go for a free quote offer with no obligation to move forward with the project. This strategy will help you to get more home improvement lead generation in USA.
Sell Your Vision With 3D Designs
Instead of telling your customers about your specialty, show them what you can do for them. Show a photorealistic 3D home design that illustrates your completed home improvement project's approximate look.
Prepare Question-Based Blog Content
If the payoff is consistent, blog posts are like long-term investments in your home improvement business.
Therefore don't just put anything within your blog to rank. Answer questions to make your effective home improvement blogs more effective. By brainstorming and keyword research, you can understand what your prospects want to know.
Therefore you can deliver that information through your blog. This makes you build trust with your audience by educating them and positioning yourself as the expert.
Build A Referral Program
In-home improvement lead generation in USA, a referral program can be the gift that keeps on giving. That's because if you do great work and offer the proper incentives for referrals then you can turn one job into several.
You can structure your referral program in many ways. For instance, ask customers if they are looking for similar services to yours. Offer a discount to customers who are referring to you.
People trust their friends and family to recommend high-quality products and services. You can capitalize on that trust by building a strong referral program that brings in sales.
Wrap up
If you are stuck wondering how to make home improvement lead generation in USA, first you should create a professional content strategy. Or else let Ping Call help you in this matter. Ping Call as an online marketing firm will help you to execute a professional blogging strategy.
The Ping Call team will use the best strategies to generate leads and improve traffic flow to your website. Contact Ping Call today to learn more about how we can help you grow your new or existing home improvement business.
---
By Katherine Miller
|
Dec 07 2022