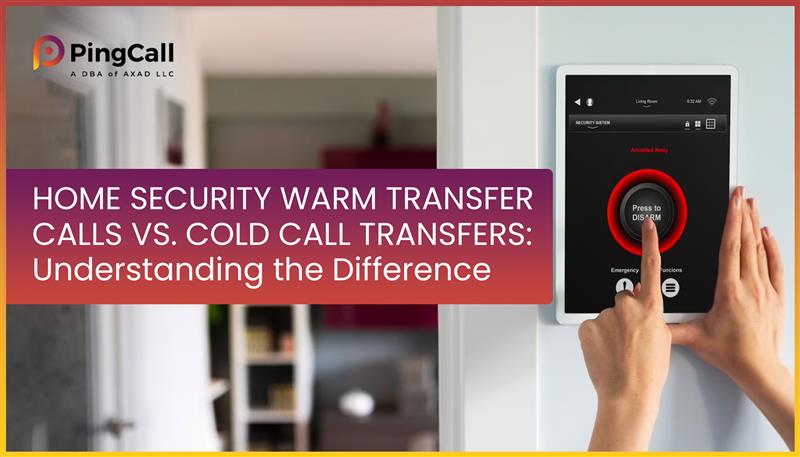 Subject
In the world of home security sales, the approach taken during customer interactions leaves a significant impact on the success of lead conversion and customer satisfaction. Two of the most common ways used to connect potential customers with home security services are Home Security Warm Transfer Calls and cold call transfers. Both approaches aim to connect customers looking for home security solutions with the right person.
However, the way these approaches are followed gives different outcomes. In this blog, we'll discuss what is call transfer, the difference between warm transfer calls and cold call transfers, and the potential implications for the home security industry.
What is a Call Transfer?
A call transfer is the process to transfer live consumers looking for home security solutions with the Sales team. This process helps establish connection between the lead and the right person or businesses offering similar services.
Call transfers are important for lead sellers, as this way they can monetize their leads and sell them to the ones looking forward to it. Companies offering the same services rely upon call transfers to effectively increase the total number of leads they purchase. With call transfers, you can immediately connect with leads and help companies connect with leads fast.
There are two main types of call transfers named cold and warm transfers. Let's talk about them in detail.
Warm Transfer Calls
Warm transfer calls are designed to establish a connection between the lead and a representative who is well-prepared and informed about the customer's needs. Warm transfers have a more personalised approach involving contacting the consumer, confirming their interest in a specific product or service, and then transferring the same to the company providing home security' products or services.
This approach involves a seamless transition from the initial point of contact, such as a marketing campaign or online inquiry, to a live agent. The process includes pre-qualifying the lead to ensure that they are genuinely interested and a potential fit for the home security services being offered.
Cold Call Transfers
Cold call transfers involve connecting leads to agents without the preliminary qualification that warm transfers' entail. This approach focuses on speed and efficiency, aiming to maximise the number of calls made and opportunities explored.
Cold transfers or blind transfers are the calls transferred to a recipient who has no prior knowledge of the lead on the phone. When the call centres experience surplus leads or are under a deadline, cold transfers are the fast way to connect with leads looking for home security solutions.
Cold call transfers are less personalised and efficient, and are managed by an automated call distribution service. However, this approach lacks personalization.
Why Buy Home Security Warm Transfer Calls?
There are numerous advantages to your home security company by buying home security warm transfer calls out of which a few are mentioned below:
Exclusivity
The calls are transferred to one company and these leads are made exclusively available to you else will be transferred to your competitor. The exclusivity of these transfers will give your sales team the option to focus on the transferred lead.
Guaranteed contact
Unlike other kinds of leads that need a laborious follow-up process, home security warm transfer calls guarantee contacts between leads and the Sales department. The consumers who are transferred will be connected immediately with the appropriate department.
High Intent
With warm call transfers, the businesses can directly interact with a hot lead interested in buying home security products or services. Every call transfer's consumer has shown their willingness and capability to make the purchase fast.
The Implications for the Home Security Industry
In the competitive landscape of home security, establishing trust and rapport are essential for long-term customer relationships. While cold call transfers might provide short-term efficiency, but in the long run, they might damage your brand's image. On the other hand, in home security warm transfer calls, priority is given to quality over quantity, nurturing leads and ensuring that the customer's needs are met.
In conclusion, the selection between warm transfer calls and cold call transfers hinges on a company's priorities and values. Though warm transfers come with an investment, they offer a better chance of cultivating positive customer relationships and boosting conversion rates. Warm transfers in addition to providing an opportunity for a more personalised experience during the connection process, also boost efficiency.
In the home security industry, where trust is paramount, businesses must not compromise with the same. Rather they can connect with leading lead generation providers like Ping Call, for buying Home Security Warm Transfer Calls or leads. Let our knowledgeable agents understand your requirements and offer tailored solutions for your home security business. Call to connect and take the first step towards a brighter future.
---
By Kate Smith
|
Sep 08 2023