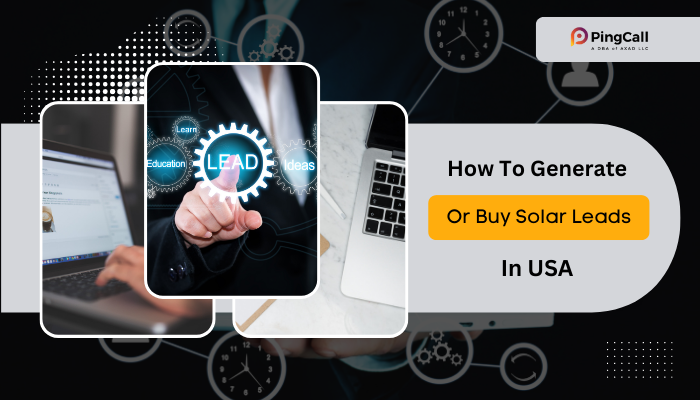 The increasing competition among solar companies is developing the ability to generate quality solar panel leads in USA. When planning to buy solar leads in USA it seems to be one of your least favourite business tasks, however, it is the most essential for a thriving solar installation business.
If you fail to bring new leads then it will make it tough to close sales and grow as a company. At the same time, the marketing initiatives make you feel very costly, draining company resources. In this blog, Ping call is exploring with you how to generate or buy solar leads in USA in a way that fits your company brand and builds a positive reputation.
Generating Your Own Solar Leads Vs Buy Solar Leads In USA
What will you prefer when you have to make decisions on whether your business has the bandwidth to generate its own leads or you find a service that sells quality leads for a reasonable price?
Many times companies will sell leads to multiple solar installers, therefore you will be in a race to contact the potential customer before your competitors. You might pay for a lead only to find out the person has a completely shaded roof or is a renter. Exclusive solar leads service may be open to alternative arrangements.
Buy Solar Leads In USA Pros
The quality lead helps you in getting instant business- If you buy a hot lead, you can make near-instant, direct contact with customers interested in your services.
Easy-to-calculate ROI- When you plan to buy solar leads in USA, it will eliminate the nebulousness of hard-to-track marketing efforts. With a purchased lead, you need to simply buy and track your return on investment.
If you purchase quality leads, there is a high chance you will be connecting with soon-to-be customers who have done their research and are ready to pull the trigger on solar.
Buy Solar Leads In USA Cons
Fierce Competition- Solar leads for sale in USA are making money from different companies. The lead you are buying would have been probably sold to several other local companies. Therefore it is like you are competing against other companies that may have purchased the same lead.
Solar leads can be expensive- The average cost of pay-per-sale solar leads in USA ranges from $225 in North Dakota to $1929 in California as per aurosolar.com.
Generating Own Solar Panel Leads In USA Pros
Cheaper- Generating your solar leads can come with a lower price tag in comparison to buy solar leads in USA. Targeted social media ads, paid and organic search and these strategies may all be used cheaply and effectively to generate leads.
Make An Authentic Interaction- Planning for exclusive solar leads? Then must establish an organic lead that leads are all yours. If you likely make prior interactions with your lead, then you can easily establish trust and rapport.
Generating Own Solar Panel Leads In USA Cons
Have patience as it will take time- Generating your own exclusive solar leads will be created out of love and dedication and it may not offer a high ROI in a short time. You have to wait for a long time or must keep patience for it.
Potential for low-quality leads- Most of your solar panel leads in USA will probably be folks who are mildly interested. You will spend a lot of time filtering out cold from hot leads.
It is difficult to measure- It is a fact that organic lead generation is by nature hard to quantify, especially if you utilise a hybrid approach of internet marketing, legacy marketing, and referrals. This makes it difficult to focus on which lead-generation techniques you should prioritise.
How To Generate Solar Leads?
To get better and exclusive solar leads in USA, you just need to be creative. So tight your sleeves and get ready to work!
Listed On Solar Company Directories
If you want customers to find your solar business when they are searching but it is tough to get your website to be seen on Google results. Google tends to favour those websites who are having more traffic and a long posting content history such as directories.
Directories like to show up first when customers are searching online. Even when customers are searching for a local business, the competition is still fierce. Make sure customers can find you when they are looking. You need to be listed in the top directories.
It is also a good idea to be listed on industry association directories for consumers who are seeking a highly trusted source of information for instance NABCEP, or SEIA.
Build a Strong Social Media Presence
Find top social media channels like Instagram, and Facebook to attract a following of homeowners interested in solar energy. It is a good way to generate solar leads because then the homeowners will have you in mind when they are ready to take the plunge.
Post Consistently
Start posting once a week then gradually increase to three times a week. Planning your content ahead of time makes it much easier to stick to a consistent schedule. Here are some ideas for the social media content they mostly social companies are using:
Following the before and after photos
In-progress project photos
Videos of exclusive processes
Company event photos
Reviews of happy customers, testimonials
Quotes relevant to solar and green energy
Company award announcements
Posting at the right time always matters. As per the research posting in the afternoon on Mondays through Fridays is best. It is always a good idea to test out different times and days of the week to see what is right for your exclusive business.
Hashtags are free advertising for your post because people use them to find businesses and other influencers based on a particular topic. Many people even follow hashtags on Instagram. Must check which social media platforms let you use how many hashtags per month.
Involved In Homeowner Communities And Offer Free Advice
To get solar leads for sale in USA you need to be involved in local homeowner associations and communities. To do this, first, find out the communities in your service area and find ways how to contact the leadership.
You can simply drive around taking note of neighbourhood names and then look them up online. The large communities have websites including board members' names and staff. Many websites even include information about business directories and sponsorship opportunities.
SMS Marketing
SMS marketing is a powerful lead generation tool as about 98% of text messages are opened by users. If you are new to SMS marketing, the first thing you need to do is build a database of phone numbers.
You can also do keyword text-in promotion. The biggest example of text-in promotions is that people are automatically opting-in to receive messages from you in future.
Once the keyword promotion is providing you with the phone numbers, the next thing you need to do is follow up.
Run Ads Targeting People Looking To Buy Solar Leads USA
People who are interested to Buy Solar leads USA or want to buy solar panel leads in USA right now are highly qualified leads because they are past the information-gathering stage and ready to purchase.
The best way to identify these potential clients is by running Google ads aimed at people actively shopping for solar panels.
You can use the following tools in Google Ads:
Enter into the market: Display adverts to customers who have been browsing for products and services like yours while you are in the market.
Remarketing: Target visitors who have already interacted with your ads, website, or app through remarketing to show them more of your ads.
Keywords: Display the advertisements where visitors who are searching for certain terms or phrases on Google using content keywords
Choose Topics: Aims on those advertisements to numerous pages that are having exclusive subjects.
Placement: Display advertisements on specific websites that prospective customers frequent.
Start a Facebook group for homeowners interested in Solar
This strategy is similar to that of getting involved in homeowner communities connecting with homeowners interested in solar, offering your expertise for free, and when they are ready to buy, you will build a relationship with them.
With this strategy, you can meet a bigger potential audience. Things you can keep in mind when starting a Facebook group:
If you want to play a long game with your strategy then don't sell your product. So by keeping it in mind only post helpful and relevant information, answer questions, and offer expert help. Here the aim is to help group members to solve their problems without being sleazy.
Ensure to up-to-date your Facebook business page and make it a professional one. Because many group members will visit your page to find out more about you to contact you.
Make a high-resolution business logo, give the link to your website, and provide quality posts that show off your best work. From time to time repost testimonials and reviews of customers as social proof.
Content Marketing To Get Leads From Online Searching People
Add blog posts and social media posts within your content marketing strategies so that people will visit your website when they are searching online.
When the client clicks on your given links to read the article then they will be taken to your website through the search process, not through an ad. Content marketing is effective in many ways. It is a fact that content marketing results in an average of 54% more leads than traditional paid marketing while saving businesses.
Use Incentives to encourage Referrals
A referral is a powerful strategy to generate exclusive solar leads. Referral prospects come informed and ready to move forward with a purchase faster than other leads because they have learned about your company before making contact. When it comes to expensive products like solar panels, existing clients will be more motivated to refer.
Incentives like discounts or cash rewards are great motivators if you offer tiered rewards for sending multiple solar leads. If a customer knows they will earn money with every referral, they will be more likely to end up more in your way.
Want to Sell or Buy Solar Leads In USA?
Ping Call compliments or eliminates your site survey process, delivering external property data you need to plan a solar project quickly. Ping Call team help contractors like:
To enhance the performance of your business, comprehensive remote measurement options are available, including pitch, azimuth, and remote shade analysis.
Instead of drawing over 2D photos and estimating the size and location of barriers, design using exact digital models.
Based on solar access values obtained from comprehensive shade analysis, determine the best location for panels to produce electricity.
With digital file outputs for well-known design programmes, proposals, permit sets, and project plans can be created more quickly.
Wrap Up
You offer excellent service and a fantastic product, but there are still more actions you need to do to ensure the success of your solar business. These advertising techniques might aid in increasing consumer awareness of your company.
You may produce leads by creating the appropriate content and promoting it in a variety of ways. More significantly, you can generate qualified leads or buy solar leads in USA that your sales staff can close.
Ping Call helps your entire company to keep up-to-date in the field, and create both simple and complex marketing campaigns to generate or buy solar leads in USA.
---
By Kate Smith
|
Dec 26 2022