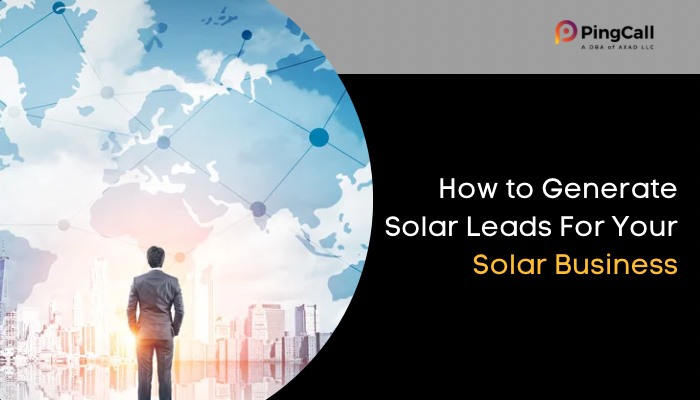 Are you searching for strategies to produce solar leads? If you are in the proper location we will provide advice on how to increase solar lead generations for your solar business in this blog post. These suggestions will assist you in increasing leads and maximising your return on investment, whether you are an experienced marketer or just getting started.


What are Solar Leads?
Potential clients that are interested in buying and installing a solar energy system are known as solar leads. The greater the number of leads you produce, the better your prospects of closing deals and boosting sales through solar live transfers. The most prosperous solar companies are those that aggressively generate leads because they can win over clients' trust and turn them into paying customers. Effective lead creation can increase your consumer base without breaking the bank.


How Solar Lead Generation Can Help You?
Solar internet leads can provide your company new clients to assist boost sales, just like the advantages of any other sort of lead. There are also a tonne of other advantages. Continue reading.


Reach more customers
Your firm may reach more customers by generating solar leads. It is a successful strategy for raising awareness and reaching more prospective clients. A solar company can reach more people by generating leads that are especially suited to its services. Let's say someone needs assistance installing or repairing solar panels. Your solar company can provide the greatest solution by focusing on their needs.


Cost-effective advertising
A cost-effective strategy to promote your goods and services is to generate solar leads. Potential clients can be reached without spending money on pricey solar marketing initiatives. Also, you will save money on advertising that could not be effective because of improper targeting. The correct demographic should be the focus of a solar lead generating strategy, which should use affordable advertising channels like social media and search engine marketing. By doing this, you'll be able to maximise your ROI and make sure that your attempts to generate solar leads are successful.


Analyze data
Customers that purchase Solar internet leads typically receive the customer's name, contact information, and perhaps even their budget. With this information, you can modify your marketing initiatives and make them more suited to the demands of your target audience. By doing this, you can streamline your marketing efforts and make sure the correct individuals see them. Be sure to have a specific objective in mind before you begin to evaluate the data.


You may choose the most effective tactics for increasing conversions by knowing what kind of leads you are aiming to attract. Effective solar lead production requires data analysis, just like any other marketing endeavour. You may learn which techniques are effective and which ones require improvement by analysing the data. By making the appropriate data analytics technology investments, you can quickly measure important performance indicators and make adjustments as necessary.


Audience segmentation
Solar leads give you the ability to categorise your audience, just like any other sort of lead generating. This makes it simpler to customise your advertising efforts and focus on particular demographics that could be interested in your services. Let's say you wish to communicate with local residents. Based on that particular demographic, you can produce solar leads.


Build relationships with potential customers
Creating solar leads is a fantastic approach to reach out to potential clients. By contacting them, you might establish connections that might result in future sales. Your company becomes more trustworthy in the eyes of your potential clients when you build strong rapport and trust, which can increase conversions. By having meaningful discussions with your customers, you can get crucial feedback and insights.


Your company can profit from lead generation's advantages and the particular advantages of focusing on customers interested in solar goods and services by generating solar leads.


Generating solar leads is an essential part of building a successful solar business. In order to grow your customer base and increase your revenue, you need to consistently attract new prospects who are interested in solar solutions. Here are some effective ways to generate solar leads for your business:


Ways to Generate Solar Leads


Social Media Marketing: Social media platforms such as Facebook, Instagram, and LinkedIn can be great tools for generating solar leads. By creating engaging posts and running targeted ads, you can attract potential customers who are interested in solar solutions. Make sure to include clear calls-to-action (CTAs) that encourage prospects to contact you for more information.


Search Engine Optimization (SEO): SEO is about optimising the website to let it rank better in the search engine pages. By focusing on relevant keywords and creating high-quality content, you can improve your website's visibility and attract more organic traffic. This occurs in the lead generation and conversion over a particular period of time.


Pay-Per-Click Advertising (PPC): PPC advertising involves placing ads on search engine results pages and paying for each click that your ad receives. By targeting specific keywords and demographics, you can attract highly qualified leads who are actively searching for solar solutions.


Referral Programs: Referral programs can be an effective way to generate new solar leads. By offering existing customers incentives for referring their friends and family members to your business, you can expand your customer base and increase your revenue.


Events and Trade Shows: Attending events and trade shows can be a great way to connect with potential customers face-to-face. Make sure to bring promotional materials and engage attendees in conversation to build relationships and generate leads.


Direct Mail Marketing: Direct mail campaigns can be a highly targeted way to reach potential customers. By sending postcards or brochures to homeowners in specific geographic areas, you can generate interest in your solar solutions and encourage prospects to contact you for more information.


Rundown
In conclusion, generating solar lead generations requires a multi-faceted approach that involves leveraging various marketing channels and tactics. By combining these strategies and consistently testing and optimising your efforts, you can attract more qualified leads and grow your solar business over time.
---
By Patrick Long
|
Apr 10 2023